It is here, in a typical suburban villa in Addis Ababa, an easy walk away from luxury hotels and burger joints, that Riek Machar maintains his residence.
It's a long way from the frontline.
Machar is a man of many titles. He's a doctor, with a PhD in mechanical engineering from an American university. He's a hero of South Sudan's decades-long war for independence. He's a father and a husband, a former vice-president, and a seasoned diplomat.
But his most important title today, as South Sudan enters its third year of a disastrous civil war, is commander-in-chief of the Sudan People's Liberation Army in Opposition (SPLM-IO).
Along with Salva Kiir, the current president of South Sudan, Machar has presided over a vicious internecine conflict.
Tens of thousands of civilians have died since the war began between the Dinka and Nuer ethnicities in December 2013, as fighters from both sides raped and pillaged their way through towns and villages, while more than two million people have been forced out of their homes.
Today, life in South Sudan, Africa's newest country, is more difficult than it ever has been – and Machar is one reason why.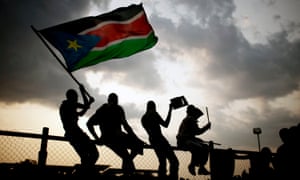 We meet at the house where he spends most of his time. Security is tight and inside heavy curtains are closed against the midday heat, lending the room a gloomy, gothic air.